10/14 - Deborah Sosin, Charlotte and the Quiet Place
Charlotte likes quiet. But wherever Charlotte goes, she is surrounded by noise, noise, noise her yipping dog, Otto; the squeaky, creaky swings; the warbling, wailing sirens. Even in the library, children yammer and yell. Where can Charlotte find a quiet place? Sara Woolley's magnificent watercolors bring Charlotte's city to life when Otto leads her on a wild chase through the park. There, Charlotte discovers a quiet place where she never would have imagined.

Sometimes children need a break from our noisy, overstimulating world. Charlotte and the Quiet Place shows how a child learns and practices mindful breathing on her own and experiences the beauty of silence. All children can relate to the unfolding adventure and message of self-discovery and empowerment. Parents, teachers, and caretakers of highly active or sensitive children will find this story especially useful.
"Parents and children who read this beautiful gem of a book will get a glimpse into the possibility of inner quiet and peace. Our world so needs this! Please gift this to your circle of dear ones and beyond." —Tara Brach, PhD, Radical Acceptance and True Refuge
"Wholesome enjoyment for kids and adults alike. Deborah Sosin's message that wherever we live we can find quiet inside will surely benefit many young people. As a native New Yorker, I especially enjoyed Sara Woolley's illustrations of Prospect Park, which help Charlotte and the Quiet Place come alive." —Sharon Salzberg, Co-Founder of the Insight Meditation Society, Real Happiness and Lovingkindness
"With elegant prose and rich illustrations, this book gently opens the door for children to discover inner peace and a quiet mind. What better way to prepare children for our busy world? Parents and children will want to read it together again and again, and breathe." —Christopher Germer, PhD, Clinical Instructor, Harvard Medical School, The Mindful Path to Self-Compassion
"As a mother, I enjoy reading this book aloud to my two young daughters, who request it again and again. As a mindfulness practitioner and clinical social worker, I love the empowering message inherent in Charlotte's experience. This beautifully illustrated story will be invaluable as I try to teach my girls how to find their own quiet place inside." —Carla Naumburg, PhD, LICSW, Parenting in the Present Moment and Ready, Set, Breathe
Charlotte just earned a Bronze Award from the National Parenting Publications Awards (NAPPA).
Deborah will be here on Wednesday, October 14 between 7:00 and 8:00 PM for a reading, discussion, and signing, plus fun mindfulness activities for the whole family!
Event date:
Wednesday, October 14, 2015 - 7:00pm
Event address:
Newton Highlands
,
MA
02461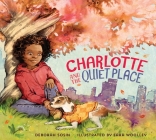 $16.95
ISBN: 9781941529027
Availability: Usually Ships in 1-5 Days
Published: Plum Blossom - September 2015
---